Realogics Sotheby's International Realty has published the third quarter market trends for 2019. These are key insights on data from around the sound that you don't want to miss! Below, I've highlighted data for Seattle single-family homes and the Seattle condo market. If you'd like to read the full report, .
​​​​​​​
SEATTLE | SINGLE-FAMILY HOMES
After two quarters of declines in median home prices in Seattle, the third quarter of 2019 began to trend closer to positive at $800,000, a dip of just 1.23% from Q3-2018 to Q3-2019. Buyers truly came off the sidelines as summer turned to autumn, with the number of home sales up by nearly 8% (from 1,531 to 1,653). Inventory conditions were nearly identical on a year-over-year basis with roughly 1,050 homes for sale and 2.3 months of inventory.​​​​​​​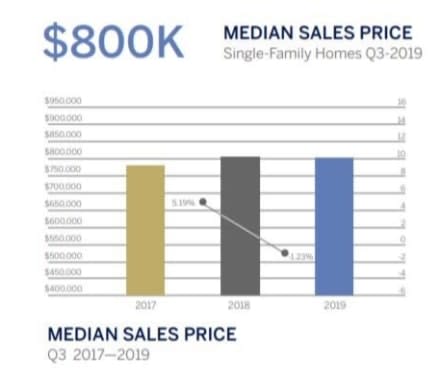 Just two years ago, single-family homes in Seattle were selling in an average of just two weeks. Since then, buyers have enjoyed slightly more favorable conditions, with homes selling roughly one month after being introduced to the market
SEATTLE | CONDOS
​​​​​​​The higher levels of inventory in the Seattle condominium market that we reported in the first and second quarters of 2019 continued into the third, with 3.6 months of inventory. This indicates neutral market conditions for buyers and sellers, which have not been felt in the market's recent past. With more options, homebuyers continued to take time before making a purchase, as condominiums spent an average of about 6 weeks on the market.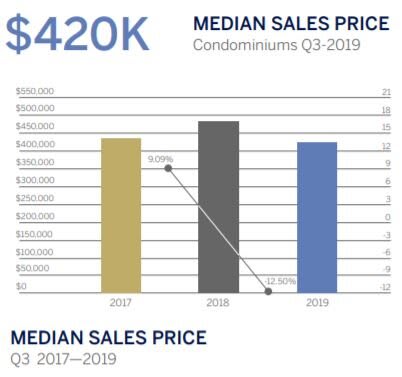 As was the case in the Seattle single-family data, the condo market felt the impact of an inventory surge with a year-over-year decline in median home prices, from $480,000 to $420,000. The average price per square foot was down by a slightly less 3.42% from Q3-2018 to Q3-2019, at $584.61 and $564.63, respectively.