Interview with Thunder Road Guitar shop owner, Frank Gross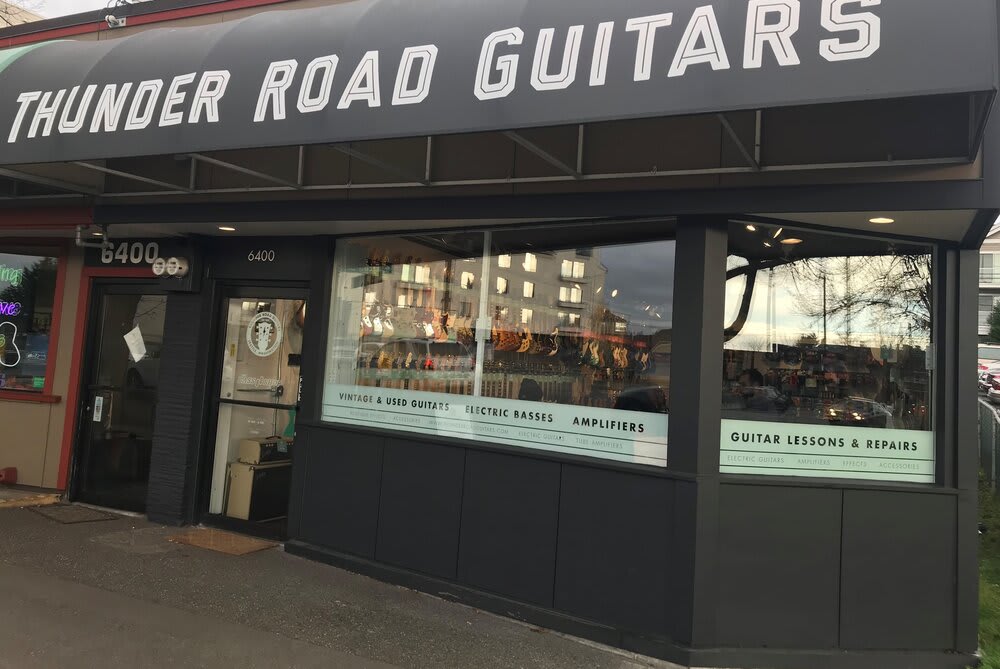 Many of my clients looking for a community in which to raise their families describe the kind of place West Seattle is, but without small businesses, the charming town wouldn't exist.

​​​​​​​​​​​​​​"Shop Small" is an annual event designed to promote and support small businesses, that happens to coincide with the anniversary of Thunder Road Guitars. I was curious to ask Frank Gross, owner of Thunder Road Guitars how he ended up owning a guitar shop in West Seattle and what kind of fears he conquered in creating a successful, thriving business.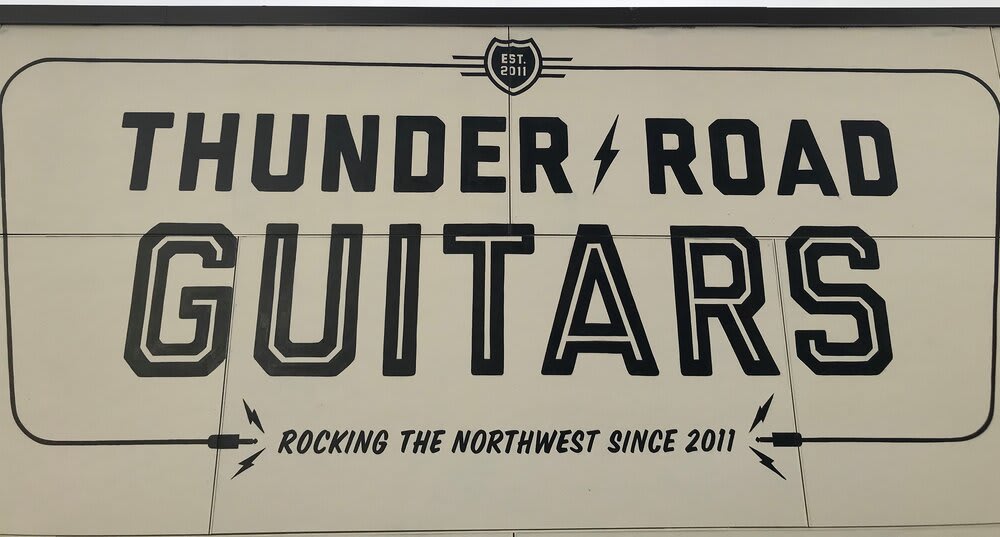 Real Estate Warrior-RW

Frank Gross-FG
​​​​​​​
RW : How did you get started in this business and how did you conquer your fear? I mean people must have said, "you want to do what!?"

FG : I started working at a local guitar shop in 2002 for three years as a teen and played and toured in local bands. I'd always loved working in that shop and when my time touring with bands ended, I wanted to own my own shop after spending time on the road with a band and settle down a bit from that lifestyle.

RW : How did you get started?

FG : I started with online only sales, working out of a 100 square feet.' space where I could run the web site, photograph the guitars, and get them shipped. It wasn't a lot of risk at that point and after 10 months of seeing that I could make it work I took a huge leap of faith and opened the brick and mortar on California Avenue.

RW : How did you deal with your fears?

FG : I figured if I was successful at online, I could have the same type of growth in a store. I knew if I couldn't make it that way then I was doing something wrong. I hired a bookkeeper and just learned as I went. It was different than working for someone, everything was up to me to figure it out on my own. We started much smaller than probably 9 out of 10 businesses start. Banks didn't want to give me a loan, so I just started small and grew the business. I took everything from the online business and saved for a year before I could open the store in an 800 square feet.' space that we outgrew quickly.

RW : You now own the building you're in at Morgan Junction on California Ave SW, right?

FG : Yes, it was probably the scariest thing I've ever done. My rent at the first store was going up 50% but I had a year notice to think about the future in the next 10-20 years. I knew this was the way Thunder Road could survive in the future of commerce by having a fixed cost for the building.

RW : Did you think about moving to a higher traffic area in the city?

FG : Oh yes, I looked for a long time in several different areas and as I was thinking I wouldn't find anything my wife told me, "just wait a couple more weeks "and that's when we found our current building that we moved into this past summer.

RW : What's your online presence like, and do you think the next generation will crave the experience of being able to shop in a brick and mortar?

FG : A little over half of our business is from our online sales. I certainly hope people continue to love coming into the store, it's an experience I love, and our customers do as well.

RW : I bought my husband a guitar online from a shop in New York and I somehow felt better knowing it was a brick and mortar shop so if something went wrong I could go there, knowing it had been in business a long time, it made me feel more confident in the purchase. Do you find your customers feel more confident knowing you've been in business and have a successful shop?

​​​​​​​​​FG : Oh yes for certain. There are a lot of guys selling out of their basements and when people see our web site they know they are dealing with a legitimate shop that's professional with a good reputation, it makes a difference. They know there are certain perks that go with that kind of confidence.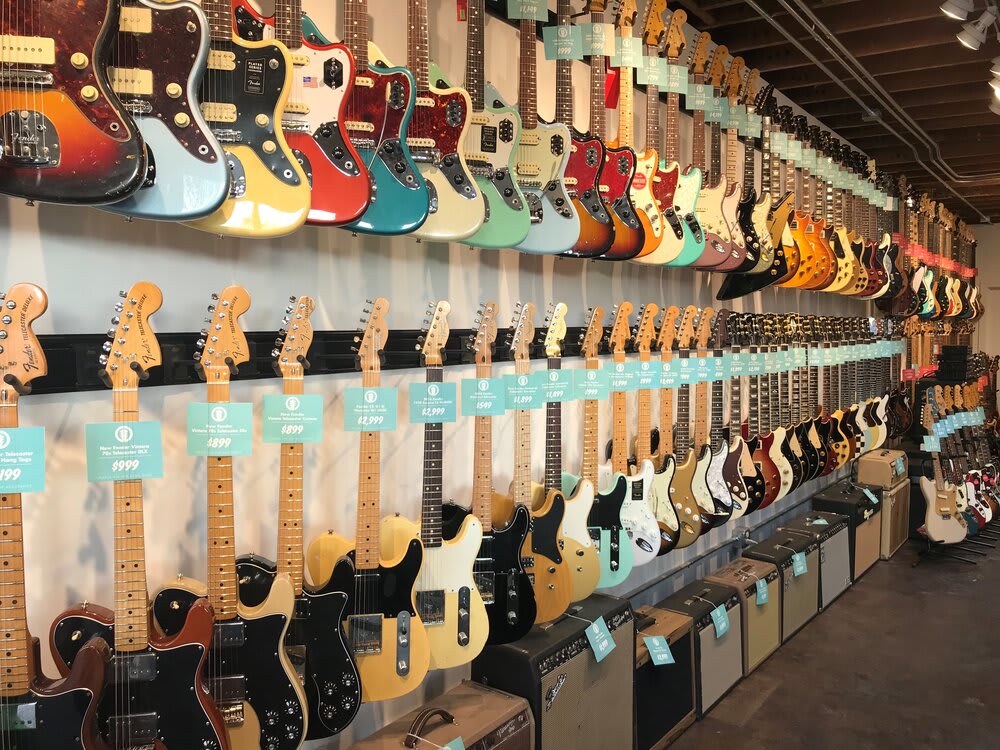 RW : You have a lot of people working for you, how did that evolve so quickly?

FG : Everyone has a specific job they are doing along with greeting and helping customers. It takes all of them to make the business work smoothly.

RW : I've noticed the music business, from artists to awards to equipment is male dominated. Why do you think that is?

FG : It has long been that way, but I think there are plenty of girls that rock and they should have an equal platform. We're an authorized Fender shop and Fender does an online guitar shop class called Fender Play. I found out recently that well over half of the people signing up for their classes are female. Out of that realization Fender decided to create some artist signature guitars by women. In Fender's entire history there have been just 2 or 3 women featured on a signature artist guitar, but in 2020 there will be five! Those kinds of changes are what we need and as a father of two young girls, I find it encouraging.

RW : Who is your typical customer?

FG : Basically, three general types, collectors, recording touring musicians, and people that have moved here for work that have a higher disposable income. A lot of customers come into the store and hang out and try guitars. Some of them come in more than once a week.

RW : What changes have you noticed since opening in 2011?

FG : We have a lot more inventory and a lot of moving parts, in a word it's a bigger wheel to turn. In early 2020 we will move into the space next to us so that we occupy the entire building and expand our footprint to nearly triple what it is now.

RW : How do you see Thunder Road in 20 years?

FG : I'd like to be retired and hopefully pass the store down to my daughters that are now two and four, but who knows if they will have interest in that or if this model will still be viable then? I'm from West Seattle, in fact West Seattle is tattooed on my arm and my wife and I are raising our family here, so that's a deep commitment that I hope will sustain the shop. When I first started as a teen, nobody bought guitars online. People shopped at stores so who knows what it will be like in 20 years. I must pay close attention to what's happening and stay ahead of it.

RW : How many hours do you put in a week and do you struggle with work/life balance?

FG : 40-60 hours and yes, I try to make time for everything, but I struggle everyday with where I'm spending my time.

RW : How is Morgan Junction changed since you moved?

FG : There are new businesses here, that I didn't know were opening when I bought the building. We have Youngstown coffee and café, Paper Boat book seller, and of course Zeeks pizza an iconic Seattle spot and many more shops are also here. I feel very fortunate to be able to own this building.

RW : Are you involved in the community as a businessperson?

FG : I'm a board member for the West Seattle Junction Association that supports the local businesses by leasing the parking lots to insure there's parking for shoppers and putting on events for the community. One really nice thing about shopping at the junction in West Seattle is the ability to easily park and shop, so that is an important contribution by the association. We welcome new businesses and support all things business related. I like having a voice and giving back to the community that supports.

RW : What do you do want people to know about supporting small businesses?

FG : When you support us, you're supporting families that live here that are directly impacted by your purchase. I love West Seattle and the people that live here love the small town feel and strong sense of community. Small businesses are a big part of what creates that sense of community that evokes the feeling that it's from another era, yet within a big city.