Interview with Taylor Atkinson
, but they are so much more. I'm always fascinated to see how people thrive when thrown what I call a "course correction" in their life. I learn a lot of useful ideas about reducing waste and upcycling from their weekly social media posts on (Instagram Atwildesign). I don't know about you but I'm often distrustful about ads suggesting a product that is planet friendly because I know they are selling something. In the case of Atwil, Taylor and Josh are living zero waste!

*RW : Real Estate *Warrior AD - Atwil Design

RW : How did you get started in the Staging business, what is your background?

AD : My husband and I were both laid off from our jobs within a week of each other, right when we were looking to buy a home. With our backgrounds and passions for real estate, it has turned out to be the perfect fit. I have a Bachelor of Arts in interdisciplinary arts with a focus in culture and literature in the arts from UW and Josh has a fine arts degree from Evergreen. We've been doing this for four years and the business has grown 75% each year.

RW : What do you find are your challenges as a small business owner?

AD : I have a lot of systems in place that really help, I'm a numbers person and spend time with QuickBooks and an inventory tracking software. Executing 3-4 stages a week along with de-staging, social media, accounting, meeting with clients and working on bids, answering emails, and running our warehouse where we keep all our inventory is a lot to juggle. I've learned to set boundaries by keeping two phones, one work and one personal. I keep set hours and take weekends off, so I have time to recharge and enjoy my passion of learning, gardening, cooking, and spending time with family.

RW : What fuels your passion in life and work?

AD : I am passionate about learning all I can about recycling, up-cycling, and living zero waste for our home and business. I follow legislation, for example Colorado just passed a law that allows customers to bring their own containers when picking up take-out food from restaurants. It's the small changes that will make a big difference overall. Generating an awareness is what starts changes for the better. I love inspiring others and raising an awareness of how to execute small changes that make an impact. Recently on a trip to New York I visited zero waste stores and found them so inspiring. In my personal life I love traveling and spending time with my family, who always inspires me. I get a lot of satisfaction upon completion of a staging when we can transform a place that seems so challenging at first but turns out so beautiful.

RW : Do you have any evidence that staging is worth the investment?

​​​​​​​AD : Yes, both in our own business and at the national level where I belong to RESA, Real Estate Staging Association . According to RESA a property staged spends 86% less time on the market. In our own market, we've seen properties that would normally linger on the market get into contract within a few days. Having seen the before and after photos, the evidence is compelling. Often when the homeowner returns to their staged home, they say, maybe we should just stay!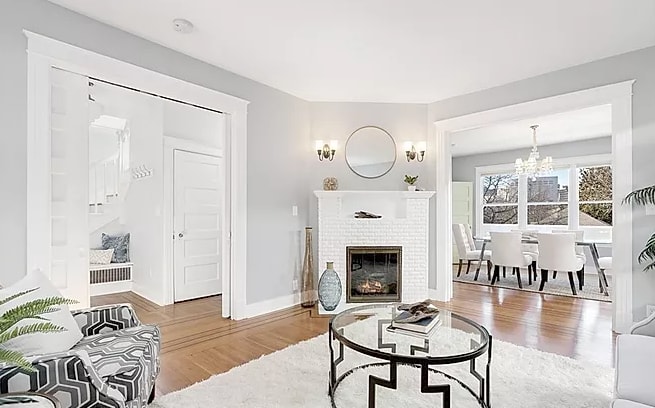 Photo courtesy of Atwil Design
RW : If you could make a post go viral so that your voice reached millions of people, what would it say?
AD : We need billions of people doing zero waste imperfectly rather than a few people doing it perfectly.
RW : Can you give me some tips on living zero waste? For example, I'm struggling with laundry detergent. I don't want to use a big plastic bottle, but it needs to be fragrance free and contain no harsh chemicals. Also, I learned to stop buying plastic cutting boards and have switched to bamboo, but what do I do with the old plastic boards?
AD : I toured the Recology sorting facility in Georgetown who recommends Ridwell for items they will pick up that our curbside recyclers won't. The Recology store will advise you how to recycle those cutting boards. I'll do a post on one of my Zero Waste Wednesday features where I talk about the laundry soap I use that is made locally and is zero waste.
RW : What is your dream for yourself?
AD : I've always wanted to live somewhere else and learn how other people live. I spent some months in France studying abroad, but I'd like to live there for years and understand another culture in only the way living there long term would allow.