Typical for the fall and winter months, people are snuggled in and inventory is lower. That is true for Seattle right now, but it isn't much of a change as low inventory and high buyer demand continues. This graph shows the norm, light green "for sale" is much higher than the dark green "sold" a year ago. Now those bars are reversed, showing the high demand for single-family homes.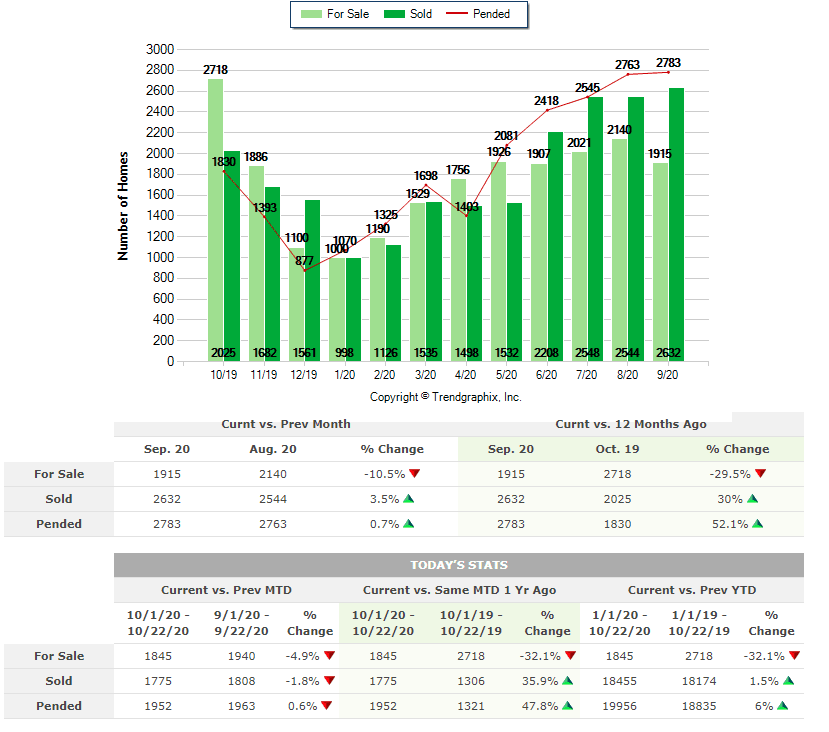 View the Q3 2020 Reports Below:
More buyers are ready to enter the market with low interest rates and it's been typical for homes to go under contract quickly. The number of homes sold is up by over 30 percent, leaving few on the market—only 1.1 months of available inventory. As one might expect, this has been accompanied by the rising median price of single-family homes in the city, up almost 8 percent compared to this quarter in 2019, while the price per square foot has also continued to tick up both month-over-month and year-over-year.
While the number of condos in the city for sale reflects a seller's market, it is the most available inventory of any of the market areas observed by Realogics Sotheby's International Realty in its quarterly reporting. The number of homes for sale is up compared to the third quarter of 2019, but the average days on the market is 30, down from 42 last year. More condos were sold in this period year-over-year, and the median sales price is up by over 10 percent.
With little inventory available on the Eastside, both median single-family home prices and the average price per square foot ticked up year-over year. More buyers on average are offering more than the original listing price than they did in 2019, and homes are moving more quickly, too, spending close to half as much time on the market. There's a correlation here—only 488 homes were available for sale in the Eastside reporting area, compared to 1,182 homes for sale during the same time last year.
Home sales on Mercer Island were up by nearly 52 percent compared to this time last year. It's resulted in less inventory—only 1.1 months available for those looking to find their island home. During this time last year, the market was neutral with 3.5 months of inventory available. This has likely caused a correlation between an appreciation in a rising median sales price, up over 4 percent, and the climbing average price per square foot, up 11 percent.
It was a fine time to be a seller on Bainbridge—homes are appreciating on the island at record speed. Compared to this time last year, the average price per square foot is up 22 percent, while the median sold price is up 34 percent year-over-year. Fewer homes have been on the market, and those homes that are available have been closing quickly, too, with an inventory of available homes down 61.3 percent versus this quarter in 2019.