The Case-Shiller report is out and shows a strong housing market with buyer demand and inventory shortages. Find the report below.
---
Good news via my preferred lender, Maggie Richter at RPM Mortgage this week:
Every year Fannie/Freddie decide on loan limits that impact lending options. They just announced their increased new loan limits for 2021:
Conforming loans: $548,250 (up from $510,400)
High-balance loans: $776,250 (up from $741,750) – Applies to loans in King, Snohomish, and Pierce county only
Learn about how this is helping the next generation become homeowners
---
Seattle's record monthly home price index gains continued in September
At last month's publication of the August Case Shiller Home Price Index results for Seattle, we noted an outsized monthly increase in the index results. Due most likely to pent-up demand following the Governor's COVID-19 restrictions earlier in the spring and summer, the index showed Puget Sound residential home prices leaping by more than one percent from July. The September Case Shiller results, usually indicating still slower-rising residential prices than in August, this year showed that selling prices had extended even these highly unusual gains.[1] Strong price growth kept Seattle second in the nation for an eighth consecutive month on the index, trailing only lower-priced Phoenix in year-over-year percentage gains. Third-place San Diego posted the largest monthly percentage increase among West Coast gateway cities, at 1.81 percent from August to September.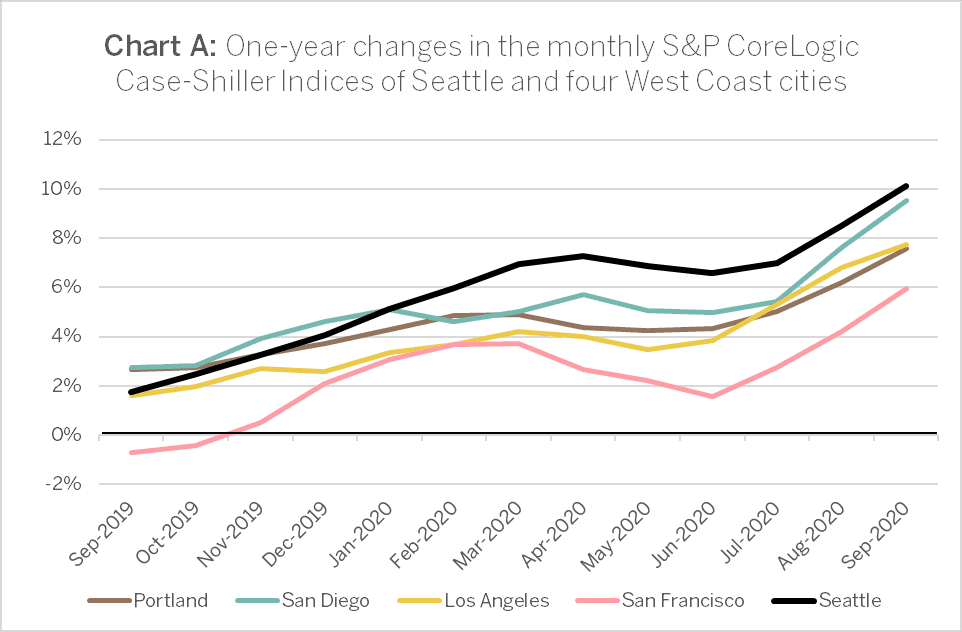 In monthly growth from August, Seattle actually placed fourth among her West Coast peer metros. By this measure, Portland and Los Angeles nearly tied for second place after San Diego, with 1.33 percent and 1.32 percent index growth, respectively. Yet Seattle led in year-over-year increases, to +10.1 percent from +8.5 percent; with +7.6 percent from +6.2 percent in Portland; to +7.7 percent from +6.8 percent in Los Angeles; to +6.0 percent from +4.2 percent in San Francisco; and to +9.5 percent from +7.6 percent in San Diego (Charts A and B).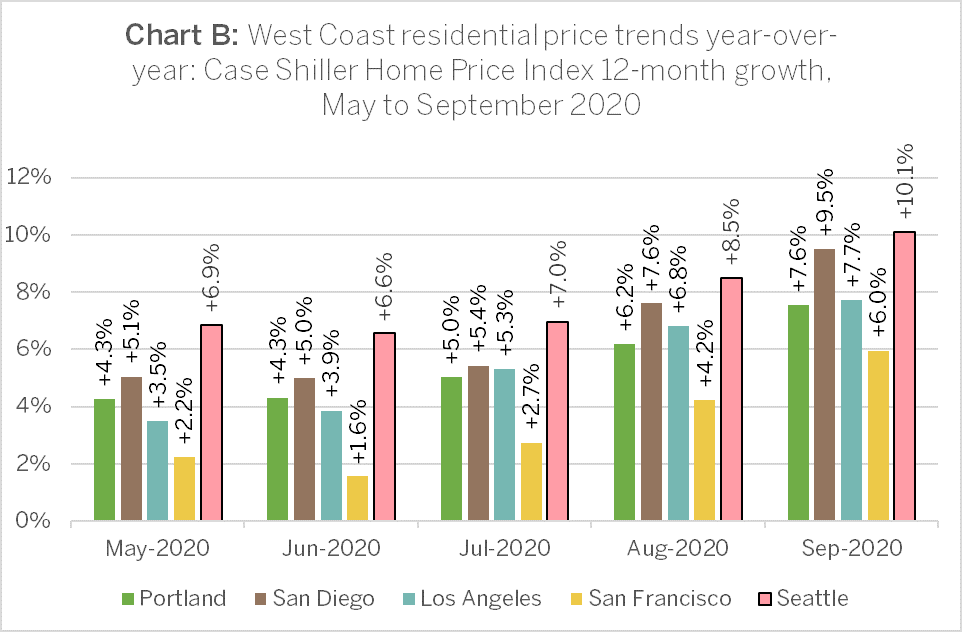 Craig J. Lazzara, Managing Director and Global Head of Index Investment Strategy at S&P Dow Jones Indices, glowingly characterized the nation's residential price growth:
Housing prices were notably—I am tempted to say 'very'—strong in September. The National Composite Index gained 7.0 percent relative to its level a year ago, well ahead of August's 5.8 percent increase. The 10- and 20-City Composites (up 6.2 percent and 6.6 percent, respectively) also rose at an accelerating pace in September. The strength of the housing market was consistent nationally—all 19 cities for which we have September data rose, and all 19 gained more in the 12 months ended in September than they had done in the 12 months ended in August.[1]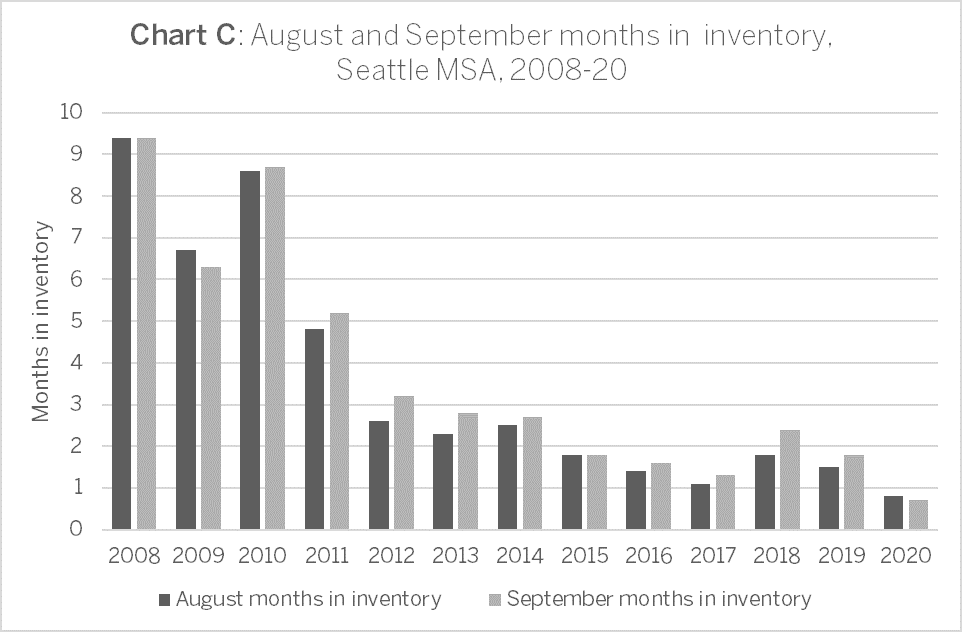 Seattle's inventory squeeze continues to produce seasonally atypical price moves
Our reporting last month observed the "vigorous selling" over the summer months that further constricted inventories—already low before COVID-19, and further tightened as a result. The region has been a seller's market since 2011, and the duration of inventory has spent the 2020 year to date well below a single month (Chart C). Set against the monthly Case-Shiller Index changes, it can be seen that compared with a buyer's market, incremental adjustments to inventory in this market have produced more volatile prices. September's price index change was even further outside the historical norm that the August result (Chart D).
We compared this historical trend to those of San Diego and San Francisco (Charts E and F, respectively). Although the Case Shiller monthly changes were of nearly a percent point or higher in all three cities, changes in previous years were different. We did not find the same historical pattern of generally unchanged or negative results for those California cities that we did for Seattle. RSIR will be watching to see whether this fall's results are unique to this otherwise exceptional year, or portends a more persistent change in Seattle's seasonal residential prices.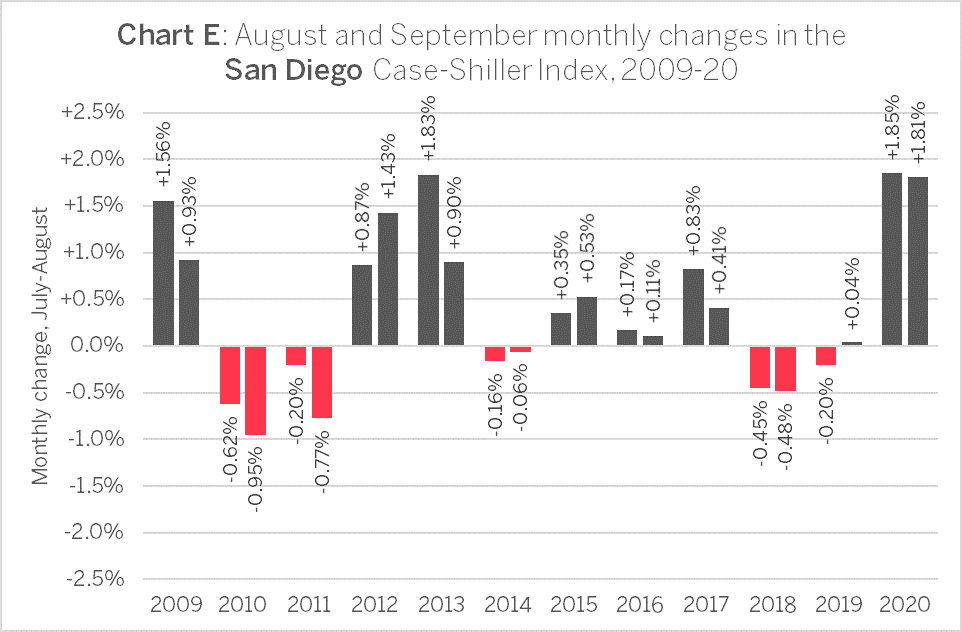 For more details on the September 2020 Case-Shiller Index results, download the S&P Dow Jones Case-Shiller summary report. For details on the market implications of our reports for homes in your neighborhood, reach out today!
###
[1] Published by S&P Dow Jones, the Case Shiller Index surveys resales of residential homes in the Seattle MSA. The index notably does not account for condominium sales. "S&P CoreLogic Case-Shiller Index Shows Annual Home Price Gains Soared to 7% in September," S&P Dow Jones, New York, 24 November 2020.